Boat Batteries Marine Lithium & Calcium
Big Lithium House Bank up to 600AH


12 Volt Lithium for Starter & House Banks

Calcium Combo Starter
& Deep Cycle Batteries.
Big Lithium House Bank Batteries
Starter, House Banks, Combo & Lithium Batteries
Since 2002, Marine Direct has offered a vast range of batteries for the marine environment. Changes in battery technology move us to replace traditional lead acid batteries, AGMs and Gels with more modern Lithium & Calcium energy storage systems.
We are also now offering our Marine Direct Big Lithium HouseBank Batteries up to 600AH.
Our revised range of boat batteries now includes:
- Calcium Combo Starter & Deep Cycle Lead Acid Batteries- inexpensive quality combo battery.
- Lithium 12 volt Deep Cylce Batteries
- Lithium 12 volt Marine Starter Batteries
- BIG Lithium House Bank Batteries
Know this about Lithium:
One lithium battery takes up half the space as two normal lead acid batteries. One lithium battery weighs 1/3 the weight of one lead acid battery.
This smaller range of lithium battery products will cover 90% of recreational boaters needs. All are suited to:
Starter Banks- 12 and 24 Volts
House Banks- 12 & 24 Volts
Lithium House Bank & Starter Banks.
Lithium- The new battery technology. Inexpensive way to try lithium.
Double the avalable amps for the battery space taken up. Lithium batteries can discharge to 20% of their capacity. Fastest battery charging up to 100 amps input. Now available in deep cycle and starting batteries versions. Lithium deeps cycle batteries can be placed in series or parallel. Requires lithium battery charger or standard car/boat alternator. (Do not use battery charger on desulphate setting. Lithium setting battery charger preferred.)
Lithium batteries are one third the weight of traditional lead batteries. They be recharged and discharged thousands of times if cared for properly and set to charge and discharge between 90% and 30% of capacity . Over 100Amp/hour discharge capability for intermittent high loads.
Lithium House Bank Batteries must not be used for starting engines.
These lithium batteries are installed on the Marine Direct project boat.
- Calcium Sealed Combo Starting & Deep Cycle Batteries- Marine Grade. Stronger plates, sealed, calcium additive covers battery plates, only 3% charge loss per month. Excellent for boats which are left for long periods without a solar panel. The best value choice for most boat combined starting & house bank applications.
Shipping & Freight Charges:
We can arrange shipping for individual 12 volt batteries for $20 to most Metro & regional centres.
If you are located in a remote area, additional charges may apply. Please place your order and we will calculate freight charges. You can alsweays cancel the order and receive an immediate refund.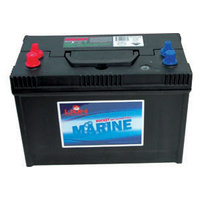 Calcium Combo Starting & Deep Cycle Battery for Inboard, Outboard & Deep Cycle Applications.