Bennett Trim Tabs- Australian Supply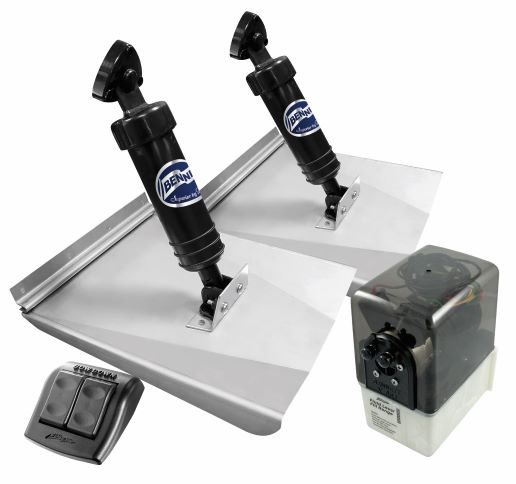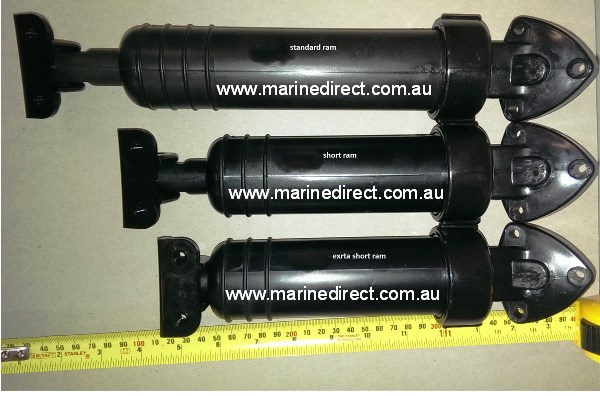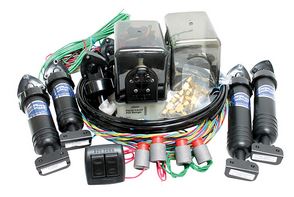 Traditional Hydraulic Tabs, Self Leveling & New Electric Versions
Bennett Trim Tabs have been manufactured for years, and are OEM suppliers to the boat building industry.
We offer traditional hydraulic and electric trim tabs.
Marine Direct Australia also offers a full range of spare parts and can assist with warranty issues.
- Delivery of spare parts is generally overnight.
- Delivery of a kit is generally within 3 days of payment as it is shipped by road freight.
Bolt Trim Tabs

Note: The new Bolt system is only
suitable for smaller boats.

Bennett announces their new 12 volt BOLT electric trim tabs to compliment the successful hydraulic range. Known as Kit1212 and Kit these electric trim tabs will suit many applications for the 17' to 23' boat size.

Bennett's hydraulic M80 and M120 Sport Tabs are also ideal for boats in the 17' - 23' range. Their unique Batwing design provides 30% more lift than conventional Trim Tabs. Space saving design insures easy installation on virtually any transom.

Designed with ease of installation in mind the BOLT and M80 and M120 Kits include an installation video.

Easy to follow instruction make installation a breeze. There is even a video CD to show you how to install the tabs. 5 year manufacturers warranty.
Trim Tab Knowledge:
Bennett Trim Tabs reposition the boat's bow to cut through the water reducing pounding, drag, and engine labouring.
Other key advantages:
Increase Speed, Reduce Pounding, Correct Listing, Eliminate Porpoising, Offset Prop Torque

Reduce Fuel Consumption, Reduce Engine Laboring, Eliminate Squatting

Improve Visibility, Reduce Wake, Improve Handling, Reduce Hull Stress

The tabs will provide 30% more lift and the unique "batwing" design will fit smaller transoms.

The pluming is easy too! Simply connect the "quick connect hoses" and it is completed.
If your boat is between 15-20 feet and you feel that your boat is possibly underpowered or heavier in the tail, purchase the larger tabs. Do not purchase the larger tabs if the power is adequate and you do not have excess weight in the tail. (Excess weight may be caused by passengers seated at the rear, extra fuel, fishing boxes and bait boxes.)
As with all technical products Marine Direct will ensure you obtain the correct product for your application. Courier shipping is generally A$25 east coast. Additional freight charges may apply to remote regions.
Self Leveling Kits
Suited to Smaller Speedboats and Inflatables
Bolt Electric Trim Tab Kit Sizes for Smaller Boats:
15-20': Bolt 129 kit
20-23': Bolt 1212 kit
Hydraulic Trim Tab Kit Sizes:

15-20': M80 kit
20-23': M120 kit
Over 23': Select standard or dual Bennett Trim Tabs from the table below. Contact US for a quote, including the delivery address.
Hydraulic Standard Single Ram Kits Contact us for Quote

15 - 19'

12 x 9"

499/001

19 - 24'

18 x 9"

499/002

22 - 27'

24 x 9"

499/004

Hydraulic Standard Dual Ram Kits Contact us for Quote

25 - 30'

30 x 9"

499/005

28 - 34'

36 x 9"

499/006

32 - 38'

42 x 12"

499/007

36 - 44'

48 x 12"

499/008

50 - 60'

54 x 12"

499/009
Spare Parts
We stock a full range of Bennett Trim Tab Spare Parts. Click on link below to view and order.