Galvinised Plough CQR Anchors Australia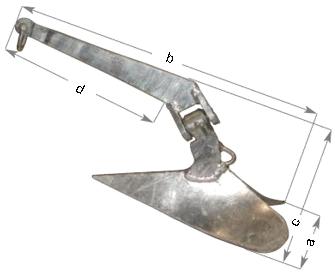 Ideal for sand and mud bottoms.
Provides safe and sure anchoring for heavier craft.
Fitted with retrieval eye for ease of removal if snagged. Heavy duty hot dipped galvanised finish with lead filled tip.
Freight: Small anchors are $20 to the majority of mainland metro areas. Larger anchors have a default freight charge of $20, plus additional freight charges to your location. We will advise shipping costs for anchors after receiving your order and calculated the most cost effective method of getting it to you.
| | | | | | |
| --- | --- | --- | --- | --- | --- |
| Size | Suggested Boat Length | A mm | B mm | C mm | D mm |
| Plough Anchor 10lb | 5m | 200 | 550 | 200 | 270 |
| Plough Anchor 15lb | 7m | 250 | 580 | 255 | 280 |
| Plough Anchor 20lb | 8m | 280 | 700 | 270 | 350 |
| Plough Anchor 27lb | 9m | 325 | 760 | 290 | 380 |
| Plough Anchor 35lb | 11m | 375 | 790 | 330 | 400 |
| Plough Anchor 45lb | 13m | 395 | 850 | 335 | 440 |
| Plough Anchor 60lb | 15m | 450 | 940 | 375 | 470 |
| Plough Anchor 80lb | 16m | 490 | 1060 | 400 | 520 |
| Plough Anchor 100lb | 17m | 490 | 1120 | 400 | 570 |