Bell Ropes
Bell Ropes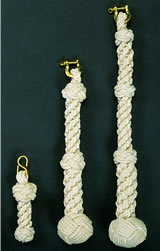 These classic cotton bell ropes are available individually and can be attached to any bell. They are the same bell rope we supply with all our bells.
We believe that the bell size and the ropes size guide will work well if you are replacing a bell rope or need a rope for your old bell.
Bell size is always measured across the bottom opening of the bell! They ship be regular parcel post.
Page end. Use the breadcrumb at the top, or the left category column to navigate.