Mooring Whips for Boats 15' to 50' Australia
Mooring whips are an effective way to protect the hull of your boat from boat wash, waves or high winds.
Australian Made Mooring Whips for boats 15' to 45'
Mooring Whip Sets
A set comprises of two mooring whip poles and accessories.
"The whips have been installed and seem to work just fine. They are bigger than what I thought they would be! They seem very solid indeed and I can't see the boat being able to break them or the whips not being strong enough to hold the boat away from the pontoon. So all in all it looks pretty good!

Thanks again for your help. Steven"

(Steven, ordered a set of larger whips for his pontoon and boat on Sydney Harbour. The whips were dispatched within two days and were installed and working within 5 days. Steven ordered his whips via the internet and Marine Direct provided follow up customer service by telephone. June 2003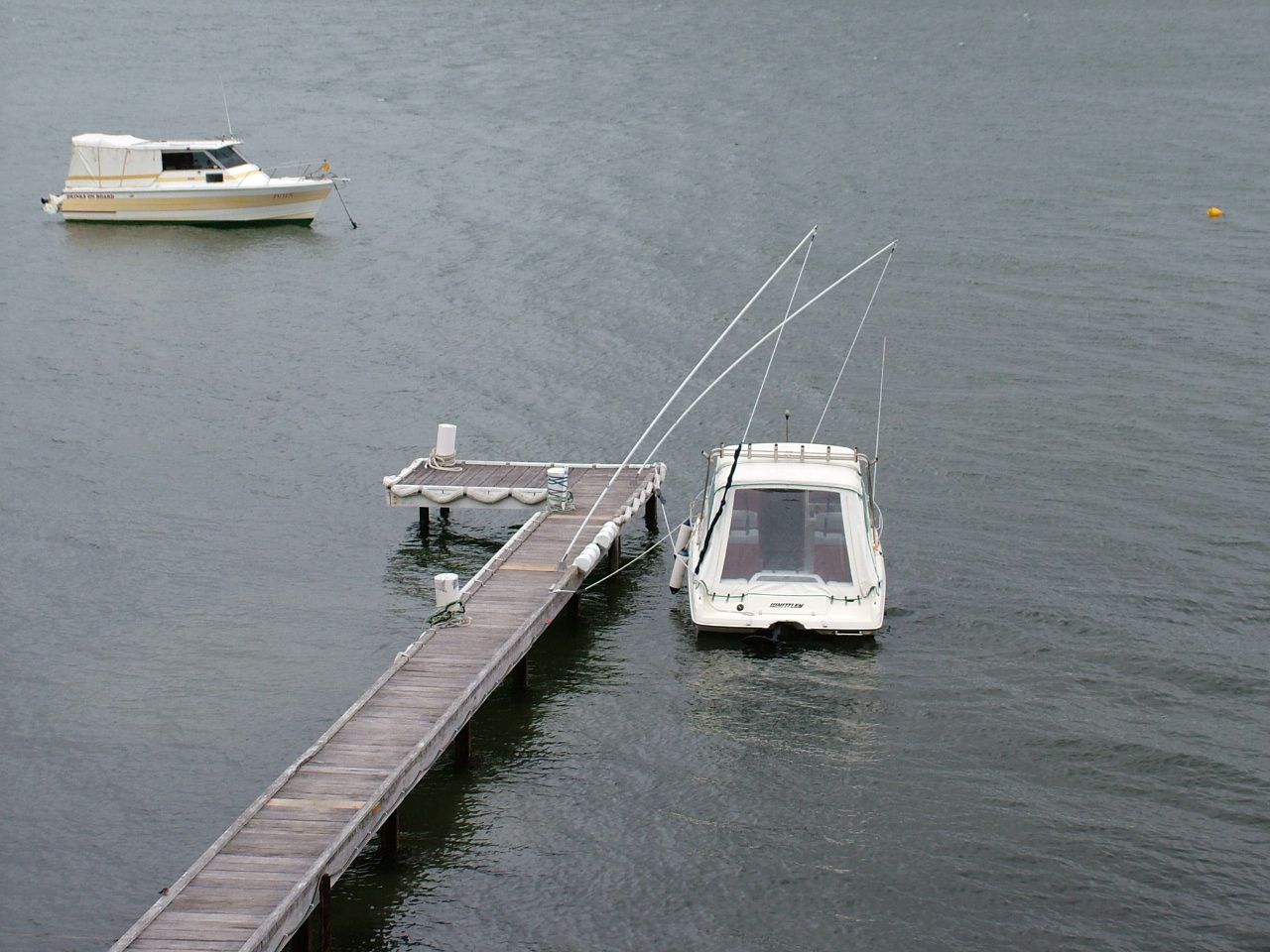 Mike's boat safely secured on his jetty.
Scott,

I have installed the Mooring Whips, they are fantastic! Seem to work really well, experienced some fairly high winds with waves over the last weekend.

For your information have attached some photos. Also for future reference I fixed the mounting brackets with treaded stainless steel rods with nuts and washers, I had the guys in our factory make me up a couple of plates that are mounted under the jetty and serve as a reinforcing piece for the mounting brackets and the jetty planks.

I think my neighbour who shares the other side of my jetty (you can see his boat on a mooring in one of the photos) will be ordering a sets of the whips also. I only installed the whips on Saturday and have already created a lot on interest. Even had a Waterways patrol boat dropped buy to have a sticky beak!

Thanks again, Best regards,
Mike L March 2006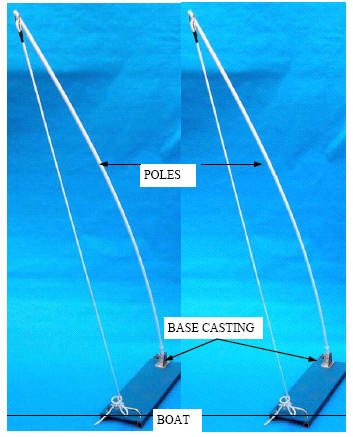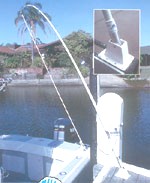 Waterfront homes and canal properties encourage regular and extensive boating. However, despite the convenience of waterfront living, passing water traffic, bad weather and strong winds can take their toll on the most carefully secured craft.
Marine Direct's Mooring Whips provide a simple, cost effective solution to the dilemma of needing to keep your boat tied up safely to the wharf for protection and convenience - and being able to slip her lines in just a few seconds. Our Mooring Whips are a cinch to secure and release, but effective in keeping the boat safely off the wharf.
They are virtually maintenance free, too. They are made of solid extruded fibreglass and will give years of service.
Two sizes are available - the 'Standard Whip', for boats in the 16'- 30' (5 - 9m) range, and the 'Super Whips' for boats 30'-50'' (9.0 - 17m) Mooring whips come in a set of two poles and accessories.
Larger craft too, can be catered for with special poles or tri or quad installations.
The mooring whips come complete as a set of two poles with all ropes and rope accessories.
SECURING THE BASE: The base plates of the mooring whips are designed to work on wood, concrete or plastic material moorings and jetties. You will need to decide what bolts or screw fasteners to use. We recommend stainless steel. The mooring whip stainless steel bases are bolted (dynabolt) to a concrete jetty or pontoon. Stainless bolts are use if the whips are to be attached to a wooden jetty or wooden pontoon. Dynabolts or bolts are not included.
If the boat is longer than the pontoon, then the poles are angled out at the bow and stern. As a general rule boats 25' and larger that require the mooring whips to be angled out should order the largest size. Large mooring whips can also be used on smaller boats. If you think you are going to purchase a larger boat in the future, then order the larger mooring whips.
SuperYachts Side Mounting Footprint... Clickhere or on image below
A set comprises of two mooring whip poles and accessories.