Handbells
Beautiful Handbells
PRICES AND ORDERING AT BOTTOM OF THIS PAGE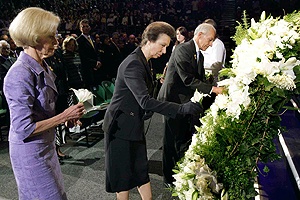 Australia's Governor-General Quentin Bryce, Britain's Princess Anne and Victoria's Governor-General David de Kretser place flowers on a wreath at a National Day of Mourning ceremony in Melbourne. Photo: REUTERS
Marine Direct Supplied all the handbells for the State Memorial Service and now used as emergency warning.
Marine Direct has been supplying these quality hand bells to schools corporations, government and individuals for many years.
Our range of handbells is made in the same time-honoured way as our ships bells ... sand-cast, machined smooth, polished to a bright shine and lacquered for protection.
The turned wooden handles are varnished with a brass fixing nut on top.
The size of the bell is measured across its base.

All sizes can be engraved for presentation purposes, and officialdom (our manufacturer has supplied Town Criers worldwide, from London to Niagara!). (Please note we do not offer engraving services.)
PRICES AND ORDERING AT BOTTOM OF THIS PAGE
We offer the following sizes and suggestions........
Quick summary.....
ALL BELLS ARE IN STOCK. Bell size is measured across the base. We ship by express post and/or registered mail.

5087 3" Handbell. Diameter 75mm, height 135mm. (Little dinky dinging sound! Hospitals and Reception Areas)
5088 3.5" Handbell. Diameter 85mm, height 160mm. (Much louder but still a quite high dinging sound.)
5089 4.5" Handbell. Diameter 120mm, height 220mm. (Good for school yards. Not too heavy. A decent "dong" for your dollar!)
5090 6" Handbell. Diameter 150mm, height 280mm. (Excellent for schools, public gatherings or town criers.)
5091 7" Handbell. Diameter 175mm, height 320mm. (This will wake up the dead! Emergency uses. Public gatherings. Advertising and promotions. Can be heard a long long way.)

Delivery is generally by courier or registered post or express post, or which ever is the most efficient way to your location. We will generally ship the day after payment is received. Prices include GST. We charge flat fee of $20 to all locations in Australia for either courier, express post or registered post. If you have a larger order with several bells then additional freight charges may apply. Larger bells are quite bulky.
URGENT NEXT DAY ORDERS CAN BE ACCOMMODATED IF THE COURIERS HAVE NOT COLLECTED FROM OUR WAREHOUSE AND WE HAVE ALSO RECEIVED PAYMENT. WE WILL DO OUR BEST TO GET URGENT ORDERS OUT THE DOOR.
We accept Visa and Mastercard, direct deposits and cheques. Goods will ship when payment is recived.
FAQ and Notes for Schools & Organisations:
Please order your bell using the shopping cart system... there will be three options to pay... these are:
Credit Card (Visa or MC)
Direct Deposit
Create Internal Purchase order
Each of these methods will create a Tax Invoice for you and generate paperwork for you to make payment. We only ship when we have been paid. Prices include GST. Delivery is generally 2-3 days after payment has been received. Bells are 99% in stock.
| | |
| --- | --- |
| 5087 3' Handbell. | $45.00 |
| 5088 3.5' Handbell. | $65.00 |
| 5089 4.5' Handbell. | $92.00 |
| 5090 6' Handbell. | $180.00 |
| 5091 7' Handbell. | $220.00 |
We LOVE our bell, it's SO loud, just the thing to muster the team to meetings (we write software for the RAN)!!
Thanks so much, Helen from XYZ Company in Melbourne.
Scott
thank you for the bells....looking at your product I'm very happy we may be looking to purchase 2 more talk to you soon. again thank you. Chris
Scott, Oh my goodness!! Your bell arrived today and it is just beautiful! We will enjoy using it and when it is not in use it will serve as a thing of beauty on my PA's office cabinet. Thank you. Kerry-Anne. Melbourne September 2004
Thank you for the beautiful bell. It arrived this morning. The 3" bell will go so well with my "ridiculous" DARWIN/TROPICAL/ SAFARI Santa suit. It is shorts, long white socks, red shoes, white braces. It truly is a quality bell.
Noel H . Albany . W.A.
Hi Scott,
Recieved bell today, all good & very happy - noisey little beast!!!!!
cheers Jonathan
Hi Scott,
Many thanks for the great service. The six hand bells we ordered yesterday arrived first thing this morning and our customer was very happy. She decided she wanted a seventh bell by tomorrow (!), so I suggested she ring you direct. Hope that's OK. All the best,
Tony,