Marine Direct offers a wide range of Quick B3 Model water heaters and spare parts. All water heaters are Australian Approved and come with a fitted approved valve.

Three year warranty.

Flexible Mounting Positions
Spare Parts for B3 and BX Quick models are all in stock and can ship same day. See below.
Freight Charges range between $20 and $100 for most locations on the East Coas depending on size and weight of hte water heater. The shopping cart will charge a default freight of $20. We will advise you of the total freight charge when your order has been received. Examples: Sydney $45 to $65, Melbourne $50 to $70.
Sizing Chart: Add 100mm to length to incorporate Australian Certified Pressure Valve.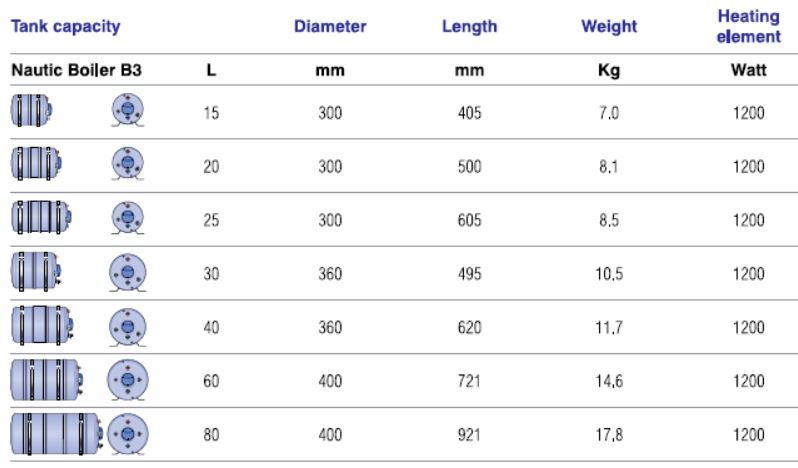 Note: Add 100mm tolength to include Australia certified valve.
Available Quick Water Heater Spare Parts:
Mixing Valve Kit- Thermostatic mixing
Anode Magnesium- Spare anode that fits all elements
Electric Element 500W 220V
Electric Element 1200W 110V
Electric Element 1200W 220V
BiThermostat- Suits all Quick B3 & BX model water heaters
Pressure Valve- replacement safety valve and drain for BOTTOM of water heater
Combined Safety Valve- Australian Certified replacement for TOP of water heater
Australian Approved
Combined Safety Valve

Magnesium Anode

Lower Valve & Drain

Element

Thermostat

Mixing Valve Kit
(649950)