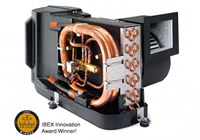 Models:
Turbo DTU6 220V 50HZ 410A 4MR
Turbo DTU8 220V 50HZ 410A 5MR
Turbo DTU10 220V 50HZ 410A 6MR
Turbo DTU12 220V 50HZ 410A 6MR
Turbo DTU16 220V 50HZ 410A 7MR
The Turbo series completely revolutionized self-contained boat air conditioning (cooling and heating) with patented innovations in marine air conditioning system design, winning the IBEX Innovation Award in 2007.
The rust-free molded composite drain pan has three drains for the rapid removal of condensate water. The drain pan has a small footprint for installation flexibility.
A vibration-isolation mounting system results in significantly quieter, virtually vibration-free performance. The enclosed blower motor eliminates overhang for reduced depth.
The Turbo series was specifically engineered to harness and maximize the impressive performance of R-410A, a proven and environmentally safe refrigerant gas.
The optional Turbo sound cover provides up to 50% further noise reduction. This compact, easy-to-install sound cover completely encases the compressor to a 3- to a 5-dB reduction in noise. Available for all Turbo models, the sound cover installs in minutes. Mounting hardware is included.
Up to 27% more energy efficient.
Up to 21% increased capacity.
Compact design uses less space.
Rust-free composite drain pan.
Up to 85% less standing water in the drain pan.
Vibration-isolation mounts reduce noise and vibration.
Engineered to maximize the performance of R-410A, an environmentally safe refrigerant.
Designed from the inside out with multiple patented innovations.
Redesigned composite drain pan is stronger with beefed-up drain threads to resist cracking.
5 ft. (1.5m) air sensor standard.
Operates with select Cruisair
Optional sound cover further reduces compressor noise by up to 50%.
(312698)