CrusiAir TVE/EBE Evaporators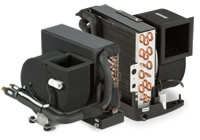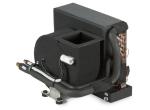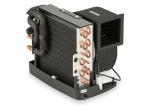 Cruisair TVE / TVB Specifications PDF
Dometic Emerald TVE6 TurboVap Evaporator
Dometic Emerald TVE8 TurboVap Evaporator
Dometic Emerald TVE10 TurboVap Evaporator
Dometic Emerald TVE12 TurboVap Evaporator
Dometic Emerald TVE16 TurboVap Evaporator
Dometic EBE18 Evaporator
Dometic EBE24 Evaporator
Dometic EBE36 Evaporator
The Dometic Emerald TurboVap (TVE) is based on the innovative engineering advancements of the award-winning Dometic Turbo self-contained air conditioning system. Offering easy installation and flexible performance from rotating blowers. TVE units work with Dometic Emerald R-410A condensing units.
The Dometic Emerald TurboVap series split-gas evaporator for boats incorporates innovative design features based on the award-winning Dometic Turbo self-contained air conditioning system. Emerald TurboVaps are easy to install and the enclosed motor means no blower-motor overhang for a compact design. The high-velocity blower can conveniently rotate up to 270 ° with a single adjustment screw, achieving optimum positioning. Since evaporators are usually positioned in or near cabins, noise is always a concern.
The Emerald TurboVap uses a vibration-isolation mounting system to minimise noise, so the evaporator runs more quietly. The fully insulated, high-velocity blowers are also quiet and efficient. Excellent condensate drainage is achieved with a unique positive-flow, anti-slosh, composite drain pan that is rust-free. Condensate water is rapidly removed at one of two easy-to-plumb drain locations.
The Emerald TurboVap Series was designed to operate as a system with the Emerald Condenser Series. Both of these split-system components were engineered to harness and maximise the superior thermodynamic properties of the environmentally safe refrigerant.