Crusiair DEU Condensing Units
CruisAir DEU Condensers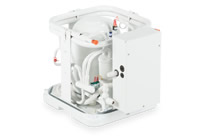 DEU Model & Specifications PDF
After listening to boat builders, global service teams and boat owners, Dometic engineers designed a totally innovative Emerald Condenser series to harness and maximize the impressive performance of R-410A refrigerant while meeting all international clean air standards.
The increase in BTU capacity is due primarily to the improved refrigerant metering design. The bi-flow thermal expansion valve for cooling provides up to a 14% increase in system capacity, which, when combined with a separate metering system for heating, attains an increase of up to 10% in heating performance. The amperage reduction of up to 27% is due to the more efficient design of the rotary compressor and properly sized refrigerant components.
The Emerald Condenser has a minimized footprint. This compact design incorporates built-in isolation, two large drain connections and numerous mounting
options for installation to a smooth deck, stringer or existing rack. The incorporated lifting handles and smooth bottom allows for easy lifting and quick placement of the unit.The molded composite no-rust drain pan is shaped to provide positive drainage even when the boat heaves and rolls. The amount of standing water in the drain pan is reduced by up to 85%, which is 8x times less than a typical drain pan.

The condensing unit provides quick and easy installation. The drain, seawater and refrigerant connections are conveniently located to conquer installation challenges thus reducing installation time by up to fifteen minutes. The electrical box can be easily removed and located up to 5 ft. (1.5 m) away, further reducing the size of the unit while making the system more accessible. The reversing valve, pressure switches and service ports are centrally located, high on the unit for access from any side.
Key benefits:
Up to 17.5% increase in BTU capacity.
Up to 41% amperage reduction.
Up to 32% reduced start-up amps.
Up to 16% smaller.
Up to 25% lighter.
Up to 85% reduction in condensate in the drain pan.
Up to 15 minutes faster to install.
Square chassis for easy installation in tight locations.
Rust free composite drain pain.
Compressor vibration-isolation mounts to minimize noise and vibration.
Reconfigurable chassis allows optimal drain connection locations.
Built-in refrigerant-line filter drier reducesinstallation time and protects compressorfrom moisture and contaminants.
Reversing valve, pressure switches, and service ports centrally located for easy maintenance access from any side.
Available in capacities ranging from 6K to 48K BTU/hr.