Cruisair Dometic Marine Air Handler Units
Cruisair AU-HV Gold Series Air Handlers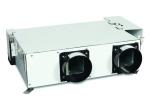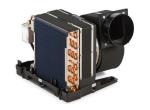 Cruisair Air Handler Model & Specifications PDF
Completely redesigned for easier installation and improved performance, Gold Series air handlers, recipient of an Honorable Mention at the 2012 International Boatbuilders Exhibition and Conference (IBEX), incorporate many innovative features, including an optional Breathe Easy™ air purifier.
A rust-free, anti-slosh, positive-flow drain pan quickly removes condensate water and a third drain hole can be employed to further increase drainage. Each drain hole is reinforced and has an external stop to prevent over tightening of the screw-in hose barb.
To better accommodate a variety of installations, each drain hole can accept either a straight or 90-degree hose barb. In addition, the vibration-isolation mounting hardware can be attached at a variety of locations along the perimeter of the drain pan.
Gold Series AU-HV air handlers feature high-velocity (HV) blowers. The rotatable blower ring can be positioned easily by adjusting a single screw, and can even blow directly downward (best achieved with the right-oriented version). Optional DC "WhisperCool" blowers are available.
The blower inlet adapter is made of a high-temperature resin to easily withstand the heat generated by the optional internal electric heating element. Gold Series air handlers provide easy access to the manual heater-overload safety switch, which is accessible without disassembling the unit.
The optional integrated Breathe Easy air purifier is positioned directly in the airstream and uses ultraviolet (UV) light and photocatalytic nano-mesh technology to improve air quality without producing any harmful ozone. The award-winning Breathe Easy eliminates odors and up to 99.9% of VOCs and biological contaminants.
Key benefits
Rust-free composite drain pan
Drain pan features anti-slosh, "positiveflow" drain channels for no spills and rapid removal of condensate
Vibration-isolation mounts reduce noise and vibration
Improved insulation
Single adjustment screw for 270° of blower rotation
Blower can be rotated to straight down position for overhead applications
Easy access to heater overload reset button
Flexible mounting options
Braided, kink-proof air bleeder hose
Reinforced drain holes prevent overtightening of hose barbs