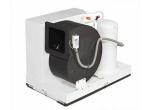 Models:
Dometic Compact Self-Contained DCU27K 410A
Dometic Compact Self Contained DCU18K 410A 7"MR
The Dometic DCU 18 Multi-Ton Air Conditioning Compact series of self-contained marine air conditioners offers 18,000 and 27,000, and 30,000 BTU/hr of reverse-cycle cooling and heating. These high-capacity units were engineered to harness and maximize the impressive performance of environmentally safe R-410A refrigerant. Used in the HVAC industry for more than 10 years, R-410A is proven and reliable, complies with all EPA standards, and is accepted worldwide.
All models offer direct expansion operation in a compact, low-profile unit, with a seawater-cooled condenser and choice of controls. Compact units are designed for installation under a settee or berth, in a locker or cabinet, or other convenient location. Compact systems feature high-velocity (HV) blowers. All blowers are insulated to prevent secondary condensation, and are fully rotatable for flexibility during installation. A stainless-steel chassis is standard on all Compact models. The 30,000 BTU/h model features dual evaporator coils and a single compressor on a single chassis. The dual high-velocity (HV) blowers can be ducted to two or more interior spaces.
...AND MORE
Compact design reduces unit size by up to 25% of the original Vector Rotary's size
High-velocity (HV) fully-insulated blowers are rotatable
Engineered to maximize the performance of R-410A, an environmentally safe refrigerant
Unique compressor and reversing valve mounting reduces vibration
Electrical box is installed within unit footprint on 18K and 27K models; remotely mounted for 30K models
High-efficiency rotary and scroll compressors are quiet and more reliable
Condenser coil's cupronickel-encased copper condenser coil provides maximum heat transfer and high resistance to corrosion
(312699)