Cmap C-Map Max Wide Area Charts- Australia, Pacific & Asian Areas
Ships Same or Next Day. International Orders Welcome.
Cmap C-Map Wide Area Charts
These Wide Area C-Map Charts represent the best value if your boating area is extensive.
Looking at the chart areas below choose one wide area chart area and copy the name to the ordering box above.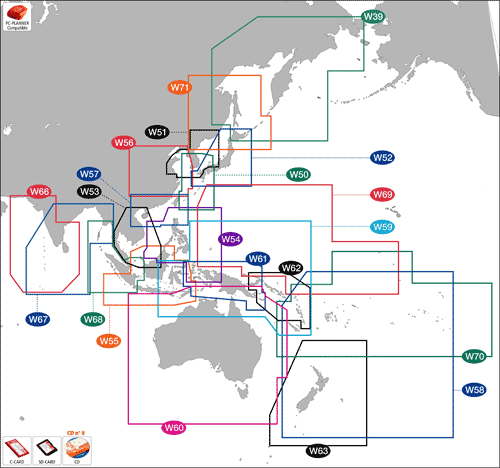 Copy and paste chart name to the box above.
W39 M-AN-M013.09 KAMCHATKA PENINSULA AND KURIL ISLANDS
W50 M-AN-M202.10 KOREA STRAIT TO OKINAWA SHIMA
W51 M-AN-M203.09 YELLOW SEA TO MALAYA
W52 M-AN-M204.09 JAPAN AND HOKKAIDO
W53 M-AS-M201.09 GULF OF THAILAND TO HAINAN DAO
W54 M-AS-M205.09 PHILIPPINES
W55 M-AS-M206.09 JAVA AND INDONESIA
W56 M-AS-M212.06 KOREA BAY YELLOW SEA TO MINJIANG KOU
W57 M-AS-M213.06 MINJIANG KOU GULF OF TONKIN CHU LAI
W58 M-AU-M001.09 NEW ZEALAND AND PACIFIC ISLANDS
W59 M-AU-M002.10 PAPUA - NEW GUINEA
W60 M-AU-M005.09 AUSTRALIA
W61 M-AU-M207.09 PAPUA NEW GUINEA
W62 M-AU-M210.09 SOLOMON AND VANUATU ISLANDS
W63 M-AU-M222.09 NEW ZEALAND, CHATHAM I. AND KERMADEC I.
W66 M-IN-M201.08 EASTERN INDIA AND MALDIVES
W67 M-IN-M202.08 MALDIVES TO GULF OF MARTABAN
W68 M-IN-M203.08 GULF OF MARTABAN TO JAKARTA
W69 M-PC-M203.09 CAROLINAS, KIRIBATI, MARSHALL, MARIANAS
W70 M-PC-M204.09 SOUTH PACIFIC ISLANDS
W71 M-RS-M207.08 HOKKAIDO AND SAKHALIN ISLANDS
(312658)